Rebate Programs
Los Angeles County Waterworks Districts (LACWD) is offering rebates to customers on a variety of water-saving devices. As an alternative to a rebate, all Waterworks customers qualify for the Los Angeles County Residential Property Assessed Clean Energy (PACE) Program which enables property owners to install energy efficiency, renewable energy and water-saving improvements (such as artificial turf and drought tolerant landscaping) to their properties without putting any money down! Under PACE, homeowners may obtain a loan to finance these improvements. Homeowners then repay the loan annually through an assessment on their property tax bill. For more information on this program, please visit Los Angeles County PACE.
Residential Rebates
(Kagel Canyon, Val Verde, Acton, and Antelope Valley)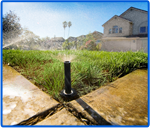 Eligible customers can apply for water-saving device rebates using the application found here. Use links below to view qualifying products for high efficiency clothes washers, weather-based sprinkler controllers and rotary sprinkler nozzles. Program funding is limited and applications will be processed on a first-come first serve basis while funding is available. The original and dated receipt must be provided with the application. Duplicate or associate copies will NOT be accepted. The application must be received by LACWD within 90 days of the original purchase date.


(Malibu, Topanga, and Marina del Rey)
Customers of District 29 and 80 must apply online through www.socalwatersmart.com
Apply Online
Other Rebates
(Malibu, Topanga, and Marina del Rey)
For Commercial, Industrial, and Institutional (CII) Rebate Programs, click here.
(Val Verde)
For Turf Removal and Weather-Based Irrigation Controller Programs, click here.
For Large Landscape and CII Rebate Programs, click here.
LACWD Water Conservation Rebate Program (626) 300-3313