PROJECT SUMMARY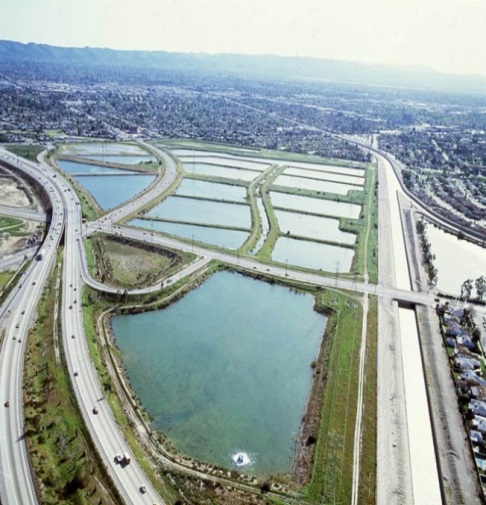 Los Angeles Department of Water and Power (LADWP) and the Los Angeles County Flood Control District (LACFCD) are cooperatively working to enhance the 150-acre Tujunga Spreading Grounds. Enhancements include expanding and combining the spreading basins and installing new intake structures, which will increase the facility's storage and intake capacity and allow more stormwater to be captured and conserved. The project will result in an increase in groundwater recharge of the San Fernando Groundwater Basin, thus increasing local water supply while reducing dependence on expensive imported water. The renovated facility will include community open space features for passive recreation and enhanced aesthetics.
The project is jointly funded by LADWP and LACFCD as well as an Integrated Regional Water Management Implementation Grant under Proposition 84 and a Storm Water Grant Program grant under Proposition 1.
RESOURCES
Benefits to Water Resources
Increase reliable and sustainable local water supply: After completion, the project will double the facility's recharge capacity and deliver nearly 12,200 acre-feet (4 billion gallons) of recharge to the groundwater basin on an average annual basis. This is enough water to sustain nearly 36,600 single-family homes.
Improve water quality by constructing new low-flow water quality basins that will treat and infiltrate low flows diverted from the Tujunga Wash Channel.
Help replenish the San Fernando Groundwater Basin and decrease the City's dependence on imported water: Historically, LADWP has utilized local groundwater to support approximately 11% of the City's total water demand.
Benefits to the Community
A newly constructed passive recreation area will be open to the public during normal dry-weather conditions.
Recreational area will include educational signage and learning opportunities.
Aesthetic enhancements and landscaping will be installed throughout the facility's perimeter.
PROJECT DETAILS
Location
The Project is located at the intersection of Interstate 5 and CA-Highway 170 in Sun Valley, CA; within Los Angeles City Council District 6 - Nury Martinez and County Supervisorial District 3 - Sheila Kuehl.
Tujunga Spreading Grounds Project Overview Map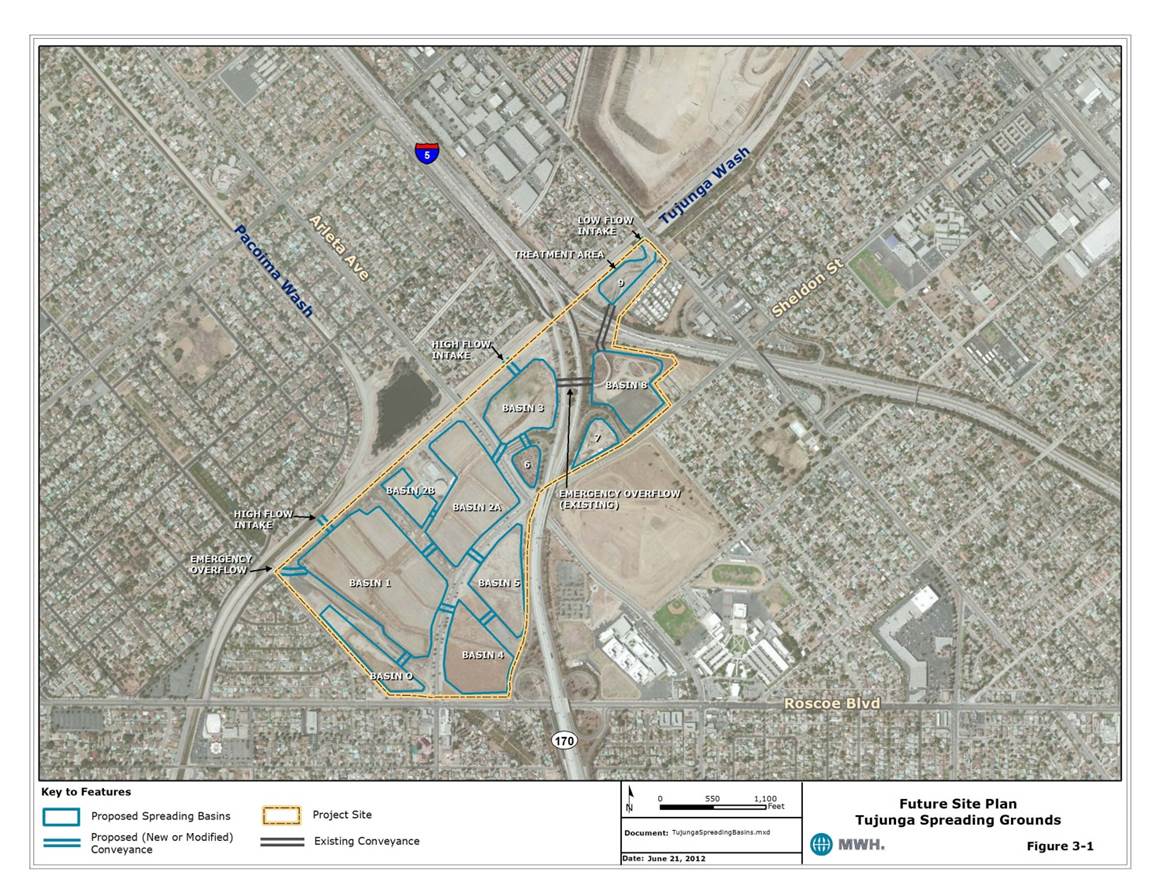 Scope of Work
The project consists of three phases: Phase I Basin Enhancements, Phase II Intake Improvements, and Phase III Landscaping and Fencing Improvements.
Phase I
Phase I of the project consisted of the basin enhancements. The previous 20 spreading basins were combined and deepened to form 10 larger spreading basins. The storage capacity of the spreading grounds increased from 100 acre-feet to 927 acre-feet. Larger overflow structures and pipes were constructed throughout the spreading grounds to convey the increased flow rates. New low flow treatment basins were constructed. Sediment transport during construction was accomplished using a conveyor belt which reduced construction traffic and emissions.
Phase II
Phase II of the project consists of the intake improvements. Two new rubber diversion gates and intake structures will be constructed in Tujunga Wash Channel, increasing the facility's intake capacity from 250 cubic feet per second to 450 cubic feet per second and allowing the spreading grounds to capture flows from Pacoima Diversion Channel in addition to Tujunga Wash Channel.
Phase III
Phase III of the project consists of enhancing the facility to include community open space and recreational features. Perimeter landscaping and aesthetic enhancements will be installed surrounding the spreading basins. A new passive recreation area with a walking path, educational signage, and low-impact development features will be constructed.
Funding
Total project cost, including design, management, and construction: $50.4 Million.
LACFCD will be contributing a maximum of $6.31 Million towards the intake improvements
The project was awarded $3 Million in Proposition 84 funding through the Greater Los Angeles Integrated Regional Water Management Plan program.
The project was awarded $7 Million in Proposition 1 funding through the Storm Water Grant Program.
The remaining cost is funded by LADWP.
Construction Schedule
COOPERATIVE EFFORTS
Mayor's Executive Directive 5
Governor's Drought Executive Order B-29-15
LADWP's Stormwater Capture Master Plan (SCMP)
OUTREACH
Construction Notification Mailers to neighboring residents
Update meetings with local Neighborhood Councils upon request
ANNOUNCEMENTS
Phase I of the project was completed in April 2019.
Phase II of the project was completed in September 2021.
Phase III of the project was completed in November 2021.
The ribbon cutting ceremony was held on June 30, 2022 to mark the completion of the project.
RESOURCES
CONTACTS
For more information on the Tujunga Spreading Grounds, please contact LADWP's Community Liason, Christina Holland, at Christina.Holland@ladwp.com
For more information on water conserved in LA County, please visit the County's website at: https://pw.lacounty.gov/wrd/spreadingGround/watercon/.
Updated on: 07/12/2022